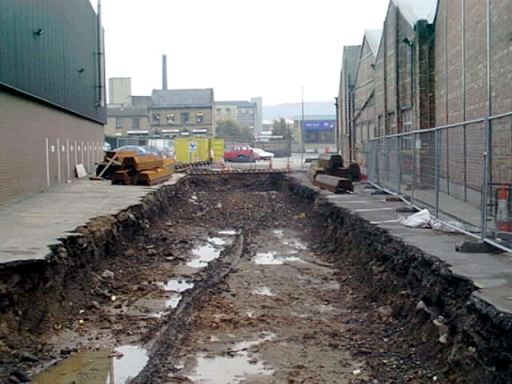 Work started in October 1999 to excavate the new line of the canal through Sellers' yard. The canal is to run through a tunnel about 12 feet below the surface. The tunnel will be around 400 metres long and 3 metres wide, which will mean boats will not be able to pass. The tunnel will also have several curves so that it will not be possible to see if a boat is entering at the opposite end!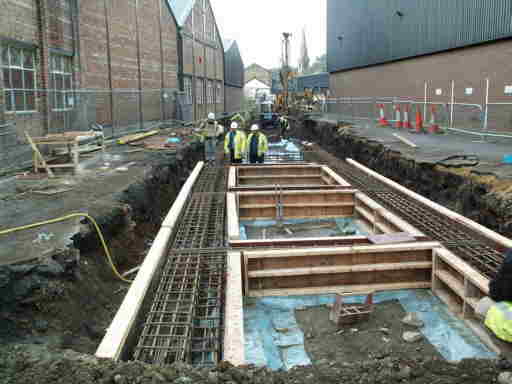 (Photo: Costain Ltd.)
This picture shows the first section of tunnel under construction on the Sellers' site. The method being employed is known as "top down" construction. Sheet piles have been driven down both sides of the channel. Concrete struts are being built across the channel, which will carry the sectional roof.

The stone building in the centre of the picture (left of the church spire) will be demolished to allow the canal to follow a new route towards the re-positioned Lock 3E.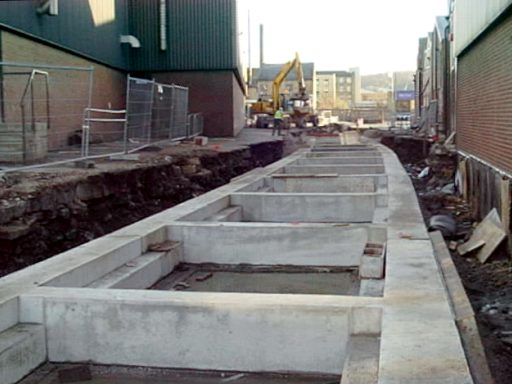 The structure of the roof can be seen clearly here. The ground below the struts will be excavated. The lining and base of the tunnel can be completed after the roof is in place. This section of yard can then be restored to use by Sellers Engineering.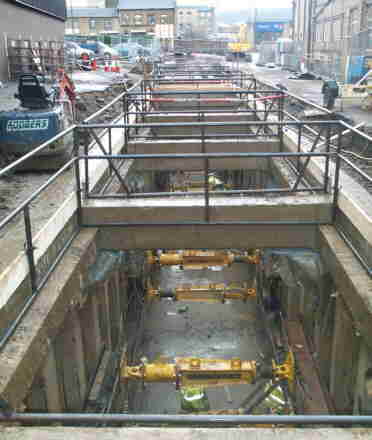 (Photo: Costain Ltd.)
A view towards Chapel Hill in February 2000, showing hydraulic jacks supporting the sides of the excavated tunnel trench. The tunnel was constructed by a "top down" process.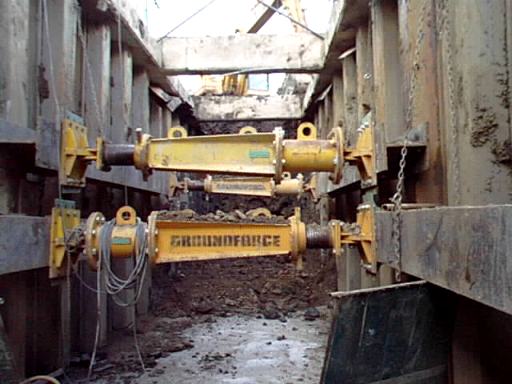 The sheet piles were driven in along each side of the tunnel. The concrete roof framework is then constructed, linking the tops of the piles. The top half of the tunnel is then dug out. Jacks are used to keep the piles in place while the lower half of the tunnel is excavated. The jacks prevent the piles from being pushed inwards at the bottom by ground pressure.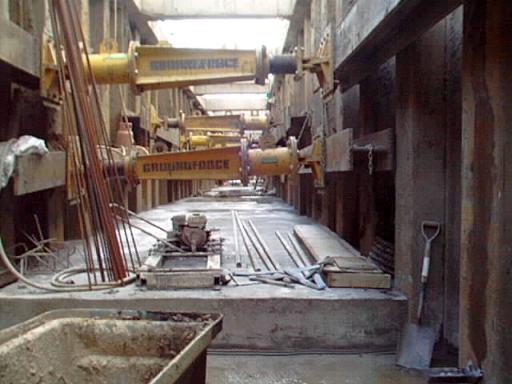 The concrete base of the tunnel is laid, which prevents movement of the piles. The jacks can then be removed.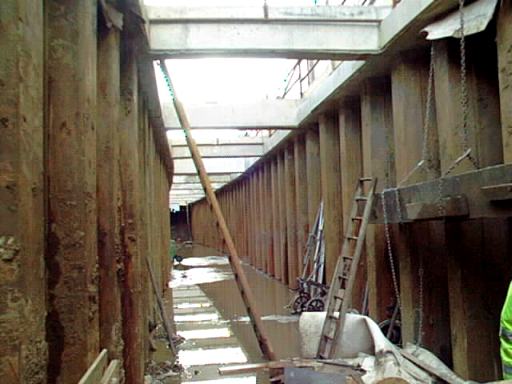 This section of tunnel is now complete, except for the concrete slabs being laid to form the roof. The piling will form the tunnel walls. Timber fenders will run along each side of the tunnel to protect the sides from straying boats (or vice versa).

Next page: Sellers' Tunnel - page 3

My thanks to Costain Ltd for providing access to take some of these photographs.