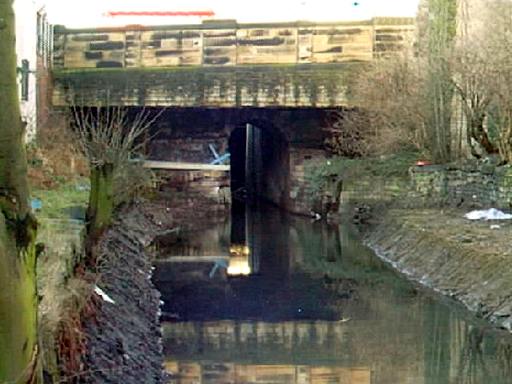 Hidden from sight below the main Chapel Hill A616 road to Sheffield is Folly Hall bridge. The narrow arch led to the original lock 3E, which was immediately behind, while a horse-tunnel, now blocked, ran parallel to the left.
The stretch of canal between Bates and Co. and Folly Hall still held water prior to the restoration, but was not accessible. To the west of Chapel Hill, Sellers Engineering had culverted the canal and extended their yard across it. A new building has been constructed across the line of the canal. A tunnel had to be constructed along a new line, which involved the demolition of two older buildings and their replacement with a newer one. This work also began in October 1999.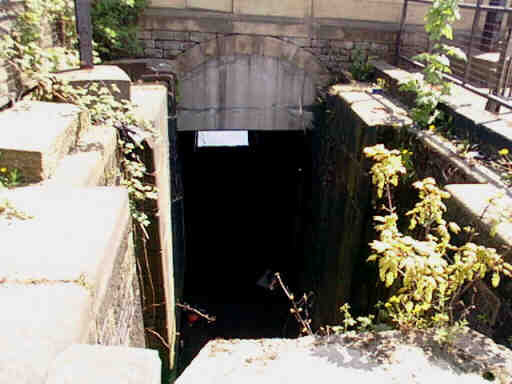 This picture shows the remains of Lock 3E, which can just be seen on the west side of the A616.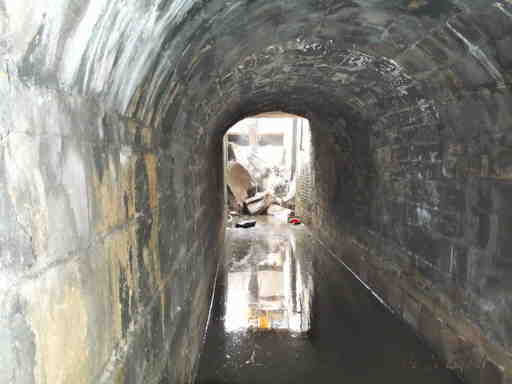 (Photo: Costain Ltd)
Looking west through Chapel Hill bridge towards the original Lock 3E. Rubbish is being cleared from below the bridge. (April 2000)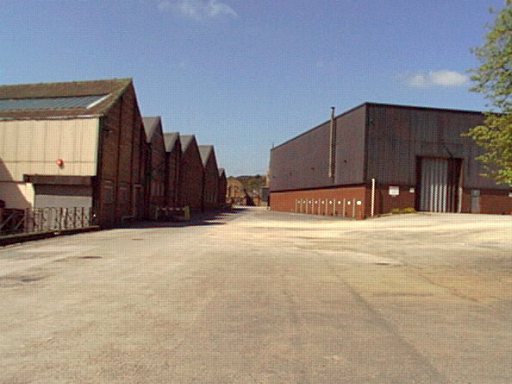 Looking west from the remains of Lock 3E at Chapel Hill, along the line of the canal through Sellers' yard, before work started. Lock 3E will be re-located at the western end of the site, beyond the buildings, so that the canal can pass at a lower level through a tunnel beneath the yard.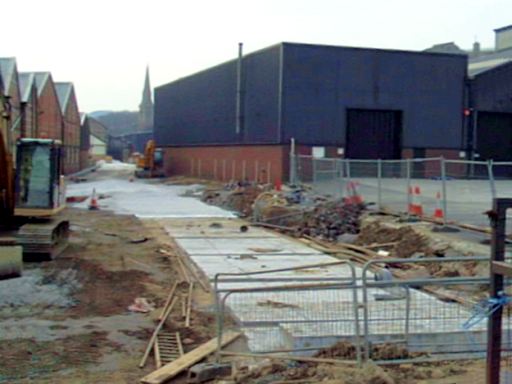 Looking west from Chapel Hill as the first section of the new tunnel nears completion. The roof of the tunnel running below the yard was being covered up. Details of how the tunnel are shown in the next pages.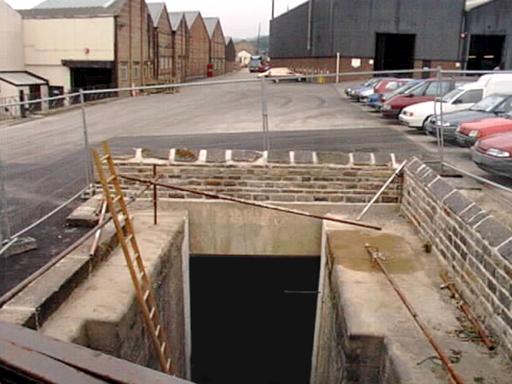 Looking west from Chapel Hill. The completed section of tunnel running below the yard has now being covered up. The tunnel emerges into the truncated chamber of the original Lock 3E. The narrow arch of Chapel Hill bridge is below the camera. The tail gate recesses are visible. The tunnel passes between the buildings. In the distance can be seen the grinding shed that will make way for the second phase of the tunnel.

Next page: Sellers' Tunnel - page 2

My thanks to Costain Ltd for providing access to take some of these photographs.