<! -- Page Content -->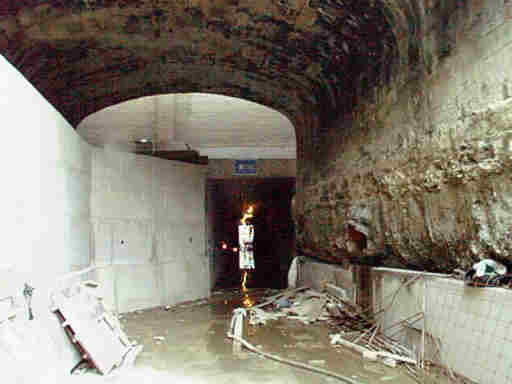 Looking straight through the tunnel from Queen Street bridge. On the right can be seen where the bridge foundations had to be underpinned.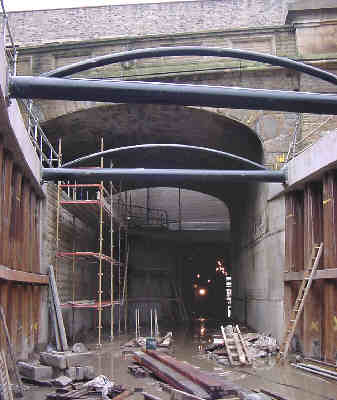 A boater's eye view of the approach to Queen Street Bridge and the tunnel from the deep channel. The concrete walls below the bridge have been given a stone facing. The sheet piles will remain as the channel lining.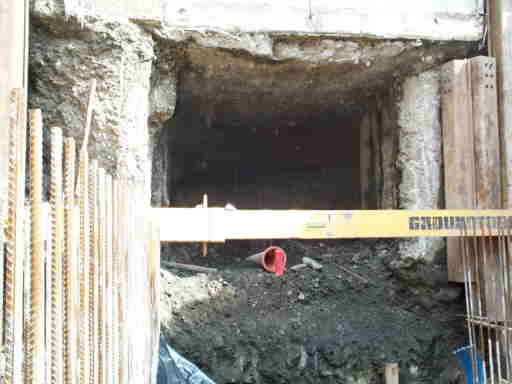 (Photo: Costain Ltd)

A close up of the entrance to the tunnel workings under Bates and Co. This was at the western end, near the new Lock 2E. Piles had been sunk along the sides of the tunnel from inside the building and then the tunnel roof put in place. The ground between the piles was being excavated with the spoil being brought out through this entrance.

| | |
| --- | --- |
| | July 27th 2000: The tunnel has now been excavated right through and a slit of light can be seen at the other end. The bottom of the tunnel is being dug deeper in order to lay a concrete base. |
August 30th 2000: The entrance to the tunnel seen from the tail of the new Lock 2E, with the steps leading down to the landing platform on the right. The floor of the tunnel has been fully excavated and the first layer of concrete laid.


Pictures of the interior of this tunnel are on the next page.



Next page: Bates' Tunnel - page 3

My thanks to Costain Ltd for providing access to take these photographs.