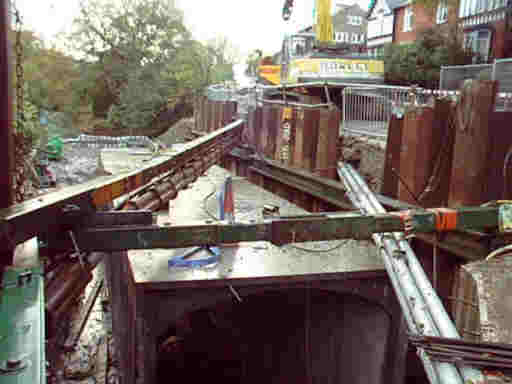 October 26th 2000: Looking south from the roadway. The two rows of piles that have been sunk can be seen, the space between them has been dug out for the section of bridge already completed to be extended. The wooden formwork to restore the arch extension has had the stone arch lining laid onto it and reinforced concrete laid above that. Beyond that, a tunnel made of 13 precast sections will taper in towards the restored stone arch. Oldham Road runs behind the sheet piles on the right, giving an indication of the narrow angle at which the road will cross the bridge, as do the pipes crossing the site.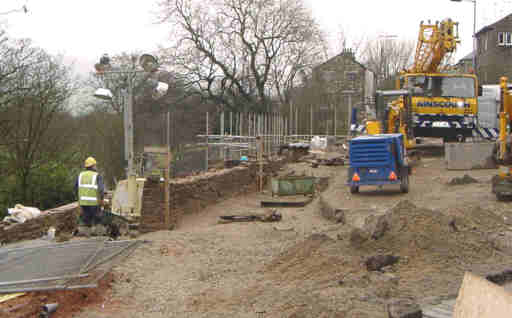 December 16th 2000: All the concrete sections are in place. The in-situ concrete section has been constructed, linking the pre-cast sections to the stone arch. Pipes and cables have been laid and the space around the concrete sections has been filled. The road level has being restored and the wall alongside the roadway is being re-built. The roadway should be open for traffic by Christmas, with some finishing-off to be done in the New Year.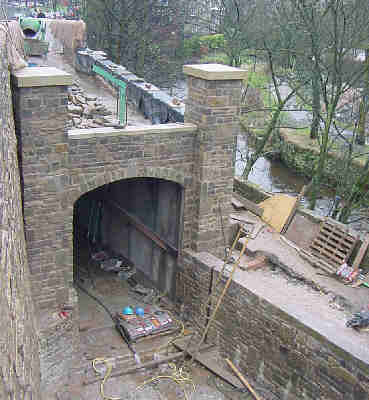 February 3rd 2001: The new entrance portal of the bridge tunnel seen from the south. Oldham Road is seen on the left. The wash walls running south from the portal have been re-constructed. A viewing platform with seats is to be created above the portal. The road across the bridge is now open to traffic in both directions.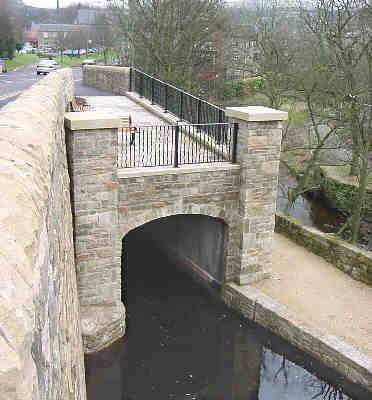 March 24th 2001: The bridge is now in water. Railings are now in place around the viewing area.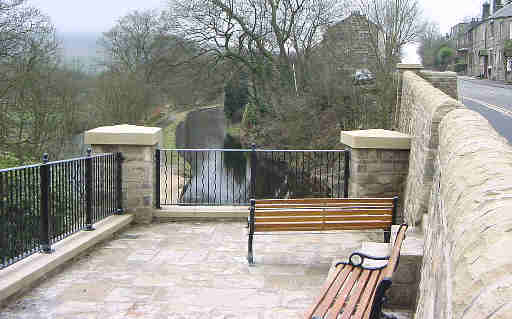 March 24th 2001: The viewing area has been created on top of the bridge portal. Seats have been installed and planters will be added.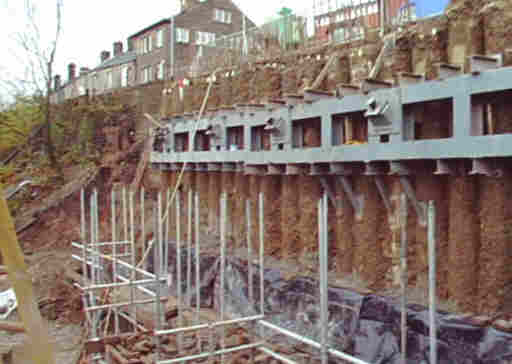 November 25th 2000: A line of concrete piles has been sunk to create a retaining wall to support Oldham Road which runs beyond. A stone wall will be built in front of the piles. The protrusions will allow the tension of the structure to be adjusted if necessary. At the bottom of the picture, the wash wall forming the west side of the channel is being constructed.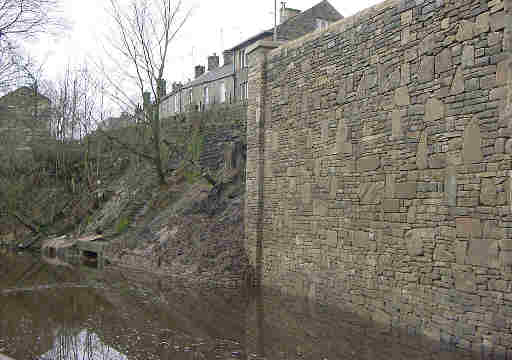 March 10th 2001: The retaining wall is complete.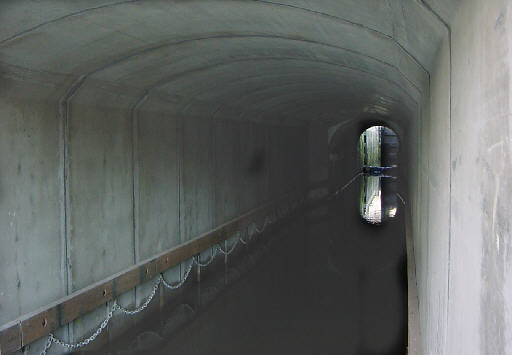 February 16th 2001: Looking north along the bridge tunnel towards the chamber of Lock 21W. Half way through, the tunnel narrows into the original stone bridge. Stop planks are in place just before the lock until work on the lock is completed.

Next page: High Street Bridge page 3.