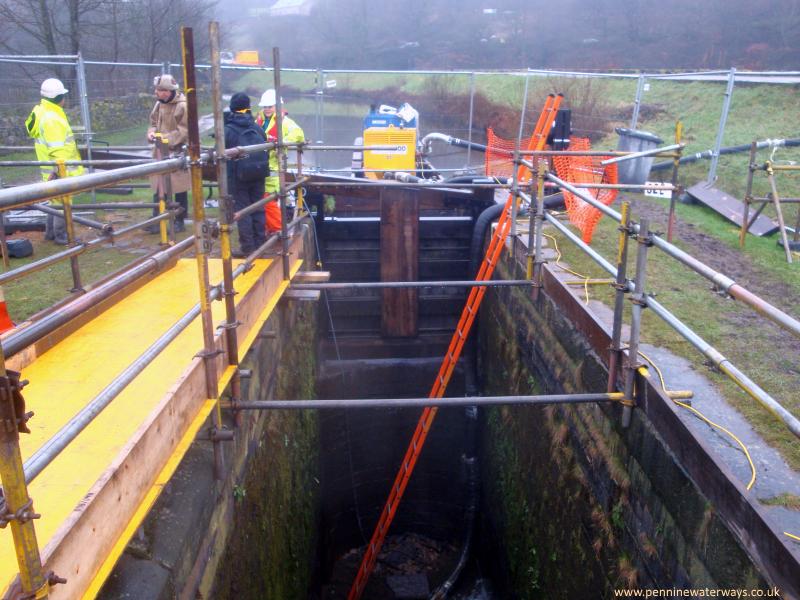 The Canal and River Trust has announced details of the winter closure programme affecting canals in the South Pennine area to enable repairs and maintenance work to take place.
Where possible this page will be updated when stoppages are altered. Last updated: 27th April 2022.
Information from Canal and River Trust and Bridgewater Canal Company.
The information shown on this page is believed to be correct but if you are planning to travel by canal during this period you should check the details with the local waterways office.

Canal:
Closure dates:
Location:
Purpose of closure:
Aire and Calder Navigation
no navigation stoppages planned
Ashton Canal
8th Nov - 17th Dec 2021

Lock 1 to 18
Lock 2: grouting to voids behind lock walls


work on Lock 2 cancelled


Lock 13: new gates and lock ladder
Lock 15: new bottom gates and masonry repairs
Lock 16: grouting to voids behind lock walls

4th Jan - 18th March 2022


stoppage cancelled

Lock 3
Construction of new footbridge. Towpath also closed.
Bridgewater Canal

7th - 21st Mar 2022


dates confirmed

Barton Aqueduct
Closed for annual maintenance works on structure.

31st Jan - 4th Feb 2022


new stoppage

Redbrow Aqueduct, Daresbury
Essential maintenance work. Closed to navigation between Waters Meet, Preston Brook and Keckwick Lane, Daresbury from 8.00 am 31st Jan to 4.00 pm 4th Feb 2022
Calder and Hebble Navigation
8th Nov - 17th Dec 2021


stoppage cancelled

Lock 16, Cooper Bridge
Repairs to gates and to washwall near Bridge 22.
8th Nov - 17th Dec 2021

Locks 17, Battyeford
Replace bottom gates.
10th Jan - 18th Feb 2022


stoppage no longer needed

Lock 19, Ravensthorpe
Masonry pointing and repairs to gates.


Work to be completed under a restriction later in the year, with navigation staying open.

Huddersfield Broad Canal
8th Nov - 17th Dec 2021
Locks 6 and 7
Lock 6: repairs to planking; Lock 7: repairs to cill
Huddersfield Narrow Canal
8th - 26th Nov 2021
Lock 6e, Mark Bottom
Grouting to reduce leakage through chamber walls.
8th - 17th Nov 2021

Manns Wharf Embankment, Grasscroft (between Locks 19w and 20w)
Washwall and leak repairs along the length of the embankment. Crest Raising to increase freeboard.
18th Jan 2022 until further notice


additional stoppage

Lock 24w, Dobcross
Cill lifted - repairs to heel post pot and the re-fixing of lifted cill. .
8th - 26th Nov 2021
Lock 29w, Diggle
grouting to voids behind lock walls.
8th - 23rd Nov 2021
Lock 33e, Marsden
grouting to voids behind lock walls.
22nd Nov - 10th Dec 2021
Lock 29w, Diggle
grouting to voids behind lock walls.
29th Nov - 17th Dec 2021


stoppage cancelled

Lock 17w, Mossley
grouting to voids behind lock walls.
Leeds and Liverpool Canal

1st Nov - 17th Dec 2021
Lock 90, Deans
Repairs to gates, masonry and lock ladder. Replace gates in disused lock with dam.
8th - 17th Nov 2021


stoppage cancelled

Locks 89, Ell Meadow
grouting to voids behind lock walls.
3rd Jan - 11th Feb 17th Jan - 4th Mar 2022


dates changed

Bridge 208, Moss Swing Bridge, Rodley
Bridge replacement.


stoppage delayed

7th Feb 2022 until further notice


additional stoppage

Locks 11- 13, Newlay
Repair of blown ground paddle on the top lock.

3rd Jan - 25th Mar 21sr Feb 2022


stoppage ended early

Culvert 21, Red Rock, between Bridge 63 and 64
Re-line culvert; create manhole covers on each bank; repair wash wall; re-line canal bed with clay.


work completed ahead of scheduled

4th Jan - 18th Mar 13th April 2022


stoppage extended

Locks 65 -85, Wigan flight
Lock 65, 68, 73, 77 and 83: grouting to voids behind lock walls; Lock 73: new bottom gates; Lock 80: repairs to top gate.


stoppage extended due to various challenges, such as gate delivery delays, equipment breakdowns, vandalism and the need to reset the gate cills. Due to be completed after 4 pm on 13th April ready for operation the next day.

4th - 28th Jan 2022

Lock 46, Barrowford
Repairs to gates and install lock ladders.
28th Sep 2021 - 29th Apr 17th May 2022


stoppage further extended

Lock 31, Eshton Road, Gargrave
Rebuild collapsing lock wall.


Extended due to flood water damaging works in progress.

4th Jan - 18th Feb 2022
Micklethwaite Swing Bridge (199)
Refurbishment of lights and barriers.
10th Jan - 18th Mar 2022
Five Rise Locks, Bingley
Locks 25 and 26: replacement of bottom gates.
10th Jan - 4th Feb 4th Mar 2022


stoppage extended

Embankment above Lock 52, Blackburn
Repairs to failed wash wall; upgrade towpath surface.


Extended due to unforeseen additional work required.

10th Oct 2021 until further notice


additional stoppage

Between Bridge 109 and 110, Rishton
Canal breach. Replacement of culvert, canal bed and repairs to weir.
10th Jan - 11th Feb 2022
Embankment near Bridge 118, Altham
Leak and bank repairs.
31st Jan - 11th Feb 2022
Lock 42, Greenberfield
Repairs to bottom gates to reduce leakage; masonry repairs; install lock ladder
8th Nov - 17th Dec 2021
Lock 2, Rufford Branch
Fit new gates, lock ladder and other repairs; work to landing stage.
10th - 28th Jan 2022
Lock 3, Rufford Branch
grouting to voids behind lock walls
31st Jan - 4th Feb 2022
Lock 7, Rufford Branch
Repairs to top gates fenders
7th Feb - 18th Mar 2022
Lock 6, Rufford Branch
Repairs to failing lock landing; work to reduce leakage through gates and paddles
Macclesfield Canal
no navigation stoppages planned
Peak Forest Canal
8th Nov - 17th Dec 2021
Marple Lock Flight
Lock 5: replace gates and masonry repairs; Lock 7: replace gates; Lock 9: reset overhanging coping stones.
17th Jan - 25th Feb 2022
Marple Lock Flight
Lock 16: masonry repairs and replace bottom gates.
4th - 1th Jan 2022

Dryhurst Bridge (26), Disley
Repairs to bridge abutments and spandrel. Towpath also closed.
Rochdale Canal
1st - 12th November 2021
Above lock 19, Todmorden
Replacement of electricity cable running below canal. Towpath also closed.
5th Jan - 5th Feb 2021
Slattocks Top Lock (54)
Rebuilding upstream lock landing.
4th Jan - 4th Feb 2022

Lock 64, Middleton
Gate and masonry repairs.
10th Jan - 21st Feb 2022

Embankment between Locks 60 and 62
Work to raise freeboard and areas of settlement.
10th Jan - 11th 23rd Feb 2022


stoppage extended

Locks 71, 72 and 73, Newton Heath
Work to prevent leakage.
14th Feb - 11th Mar 2022
Between Locks 39 and 42
Rebuild offside washwall.
14th Feb - 11th Mar 2022
Lock 44, Sladen
Work to reduce leakage through lock.
28th Feb - 18th Mar 2022
Lock 9, Hebden Bridge
Repairs to reduce leakage.
River Ouse, River Ure, Ripon Canal
no navigation stoppages planned
Selby Canal
no navigation stoppages planned
Sheffield and Tinsley Canal
no navigation stoppages planned
Sheffield & South Yorks
Don Navigation
4th Jan - 7th Mar 2022
Holmes Chord Railway Bridge, Rotherham
Third Party contractors to refurbish the railway bridge
4th Jan - 7th Mar 1st April 2022


stoppage extended

Near Rotherham Lock
Work on flood alleviation canal barrier.


stoppage extended due to delays caused by recent storms in the area

Sheffield & South Yorks
New Junction Canal
4th - 22nd Jan 2021
Top Lane Lift Bridge, Kirkhouse Green Lift Bridge and Sykehouse Road Lift Bridge
Replacement of worn hanger rods on the lift bridges.
Stainforth and Keadby Canal
10th Jan - 25th Feb 17th Jan - 4th Mar 2022


dates changed

Thorne Lock
Repairs to lock cill; replacement of gates


stoppage delayed due a delay in the manufacture of the gates